Galleries and Displays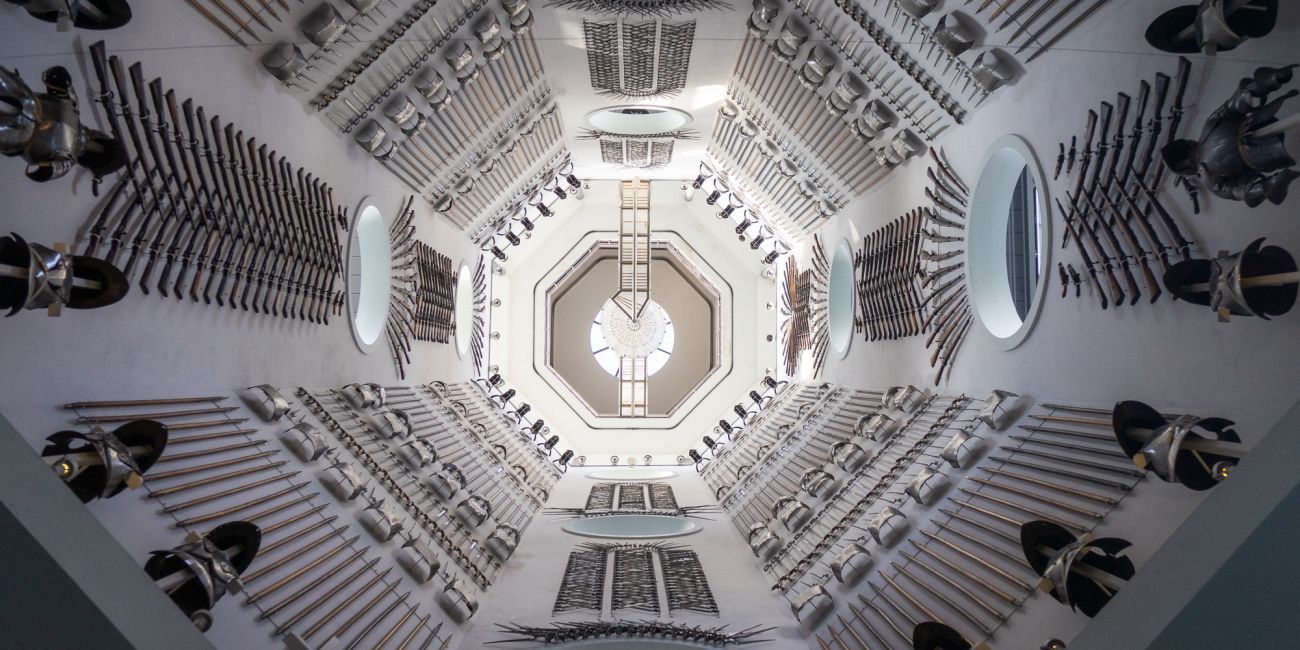 Explore thousands of incredible objects from the world's finest collection of arms and armour, spread over five floors at Leeds Dock.
Tournament Gallery
Tournaments were once legendary throughout Europe as sporting competitions for the rich, famous and powerful. See the highly decorated essential items worn, used and exchanged as gifts by King Henry VIII and other nobleman. This gallery evokes the colourful and lavish spectacle of these glorious events, and a new display celebrates the history of modern Jousting and how the Royal Armouries reinvented Tournaments for a new audience. Plus, experience the clash of swords in our live, daily combat demonstrations of arms and armour from this era.
Find out more about the TOURNAMENT Gallery
War Gallery
From hand-to-hand combat in the Roman empire, to hi-tech modern warfare, explore how technology has changed how we fight and make peace with each other. Our largest gallery features a detailed model of the battle of Agincourt, rare decorative Knight's sword, Gothic horse armour and a special exhibition on the Second World War, all brought to life with daily live interpretations.
Find out more about the War Gallery
Asia and Africa gallery
Have you ever seen an elephant wearing full body armour? What about a full suit of 19th century Chinese Imperial Guard armour? Or weaponry from Japanese Samurai warriors? Visit this gallery for a dazzling display of priceless objects from the Middle East, Asia, and Africa. Don't miss our new 3D Sikh interactive display which enables visitors to see close up just how beautiful these objects are.
Self-defence Gallery
Individuality takes centre stage in this gallery. Discover how personal protection takes many forms, can come in miniscule sizes and ranges from the Middle Ages to the 21st century. In our most varied gallery, you can see a walking stick that is also a gun, a vampire slaying kit, James Bond's guns, iconic movie props from Aliens and Lord of the Rings and an elegant set of hunting weapons once owned by a Russian Empress.
The Hall of Steel
A giant staircase adorned with 2,500 objects arranged in an impressive display to show how items from our collection would have been exhibited at the Tower of London in the 17th century. 
With an angled mirror on the ground floor, you can get the full extent of the display as well as pose for the camera in one of our most popular photo spots. 
Find out more about the Hall of Steel
3D Virtual Tour
Can't make it to the museum because a) it's midnight b) you live in Japan c) it's raining? Well, fear not… we have a virtual 3D tour of the Royal Armouries Museum in Leeds.
Find out more about the 3D Virtual Tour
Escape Room
Can you travel through time and space to uncover the secret histories behind objects in our museum? Work against the clock to crack the code and release the Royal Armouries Agents trapped in another dimension!
Our family friendly Escape Room is open at weekends and every day during school holidays and is suitable for ages 8+. Tickets start from £10, and family tickets are also available. 
Temporary Community Displays
We regularly co-create temporary exhibition displays with community groups and volunteers. We work closely with different groups to ensure a diverse range of voices can be amplified. Our most recent display, located on the 1st floor, has been developed in partnership with Leeds 2023, with funding from Heritage Lottery Fund, and explores the hidden stories of gender in our collection. Find out more about Forgotten Battles: Gender in the Armouries exhibition and object trail.
Temporary Gallery Closures
Some of our gallery space on the 4th floor is currently closed as we prepare to launch new temporary exhibitions on a large scale. Our first exhibition, in partnership with Leeds 2023, is due to open in December 2023.